REGENERATION
February 17-19, 2023
What is Regeneration 2023?
Regeneration is the only Salvation Army conference that is specifically made for young adults in the Central Territory. It is an experience made just for you. You won't want to miss it! Registration ends on January 28th, 2023.
How much will it Cost?
Only $50. Only $50? Yes, only $50. That's a real sweet deal, considering it includes: all housing, meals, fun, electricity, water, heat, swag, places to sit or stand and interesting things to look at for the whole weekend.
When is Regeneration 2023?
Regeneration will be held the weekend of February 17-19th. This is President's/Valentine's Day weekend, so love will be in the air and you may have the following Monday off school or work.
How old should I be?
Regeneration is a conference for young adults. You must be between the ages of 18-29 (by 2/10/2023) to attend. There is one exception… If you are 30 or older and are active in young adult ministry on the local Corps or Divisional level you are now welcome to attend. (You will need to describe your involvement on the registration form).
What is Regeneration 2023 about this year?
Focusing Jeremiah 29: 4-14 we want this weekend to encourage you to wholeheartedly seek God and trust his plans for a future and a hope, even when circumstances are temporary and imperfect. Rooting yourself in Christ and know that when we "build houses and plant gardens" we will influence the world around us for generations to come.
Can my spouse and/or child come?
YES! Childcare will be provided for families with children up to 3 years of age. Spouses of registered young adult delegates who are over the age of 30 are welcome to register and attend Regeneration 2023. Please contact our office via email at [email protected].
COVID SAFETY
Regeneration is following the CDC rules for the state of Wisconsin. While we are not requiring a COVID test prior to attending, we encourage you to test before traveling for the weekend. And we don't want anyone to miss, but if you are feeling ill please stay home. Masks are optional for the weekend.
Where is Regeneration?
Wonderland Camp & Conference Center
9241 Camp Lake Road
Camp Lake, WI53109
Candice Wynn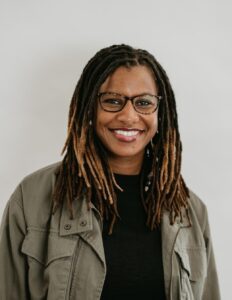 After graduating FAMU, I ventured up to Atlanta, GA to study at the Candler School of Theology at Emory University where I earned a Master of Divinity in 2009. I was then ordained an Itinerant Elder (Reverend) in the African Methodist Episcopal Church.  I've served as both a Youth and Next Generation/Family Pastor for over 14 years in the South East USA.
Now, I am blessed to work alongside some of the most gifted youth pastors, writers, and speakers at Orange. There, I support Youth Leaders all over the world as a Youth Ministry Coach & Consultant and have had the opportunity to do some amazing things!
I believe my mission is to transform the lives of today's youth, so God may be glorified. I'm extremely grateful for the many ways God is constantly evolving what that looks like and is using every part of me to make it happen.
Tim Reddick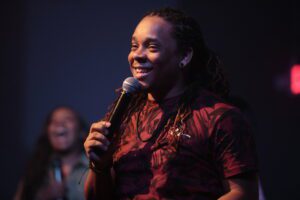 Born in Cleveland, Ohio in February of 1990, Timothy Reddick was raised by his mother who kept him in the church. She made sure that he played and sang for various revivals and other church functions.
In the year 2000, at the age of 10 years old, Tim played the keyboard for his first church in Cleveland, where his Grandfather is the pastor.
At the age of 12 years old, he began to pursue music education at The Cleveland School of the Arts, majoring in vocal performance. Since then, has has studied at Interlochen Center of the Arts Academy, Broadway School of Music & Hubbard School of Music.
Timothy has had the privilege and honor to share platforms with Tye Tribbett, JJ Hairston, Jonathan Nelson, Jason Nelson, Travis Greene and more.
Timothy pays tribute to who he calls his mentors: Mark T. Jackson & Maranda Curtis. They have taught, encouraged and pushed Tim into the person, christian and creative he has become.
He previously served as a Minister of Music at "The Word" Church inCleveland, OH under the leadership of Found and Senior Pastor Dr. RA Vernon. He worked directly under his mentor, Mark T. Jackson who serves as the Director of Music and Fine Arts.
Following the voice of the Lord, he ventured to Dallas, TX successfully pursuing his dreams of traveling the world providing worship experiences through his music. He owes everything and gives all credit to God, for without Him none of this would have been possible.
He currently resides in Atlanta, GA where he acts as Musical Director at All Nations Worship Assemblies ATL and is still traveling the world in heavy pursuit of all that he's called to be.
Yet… this is only the beginning.