REGENERATION
February 16-18, 2024
What is Regeneration 2024?
The Salvation Army hosts an annual conference for Young Adults ages 18-29, from the central 11 states including larger cities Detroit, Milwaukee, Chicago, St. Louis, Minneapolis, etc. and from rural Nebraska/Iowa/Indiana as well as suburbs all around. In the past we have hosted over 250 attendees at our camp in southern Wisconsin. Regeneration's seven outcomes (see below) provide the framework for the weekend. Supported by the research conducted at Fuller Youth Institute, Regeneration aims cultivate a for young adults space that explores identity, belonging and purpose through biblical teaching, discipleship and Christian community.
How much will it Cost?
Only $50. Only $50? Yes, only $50. That's a real sweet deal, considering it includes: all housing, meals, fun, electricity, water, heat, swag, places to sit or stand and interesting things to look at for the whole weekend.
When is Regeneration 2024?
Regeneration will be held the weekend of February 16-18th. This is President's Day weekend, so you may have the following Monday off school or work.
How old should I be?
Regeneration is a conference for young adults. You must be between the ages of 18-29 (by 2/10/2024) to attend. There is one exception… If you are 30 or older and are active in young adult ministry on the local Corps or Divisional level you are now welcome to attend. (You will need to describe your involvement on the registration form).
What is Regeneration 2024 about this year?
What are you going to DO after you graduate?
What are you DOING for work?
Tell me about what you are DOING in life?
So often these questions are asked as a way to connect with the ever-changing dynamics of young adulthood. And while these questions may be a well-intentioned attempt to connect, often leaves us with even more questions.
Am I doing the right thing?
Or how do I know what God wants me to do?
Or I know what I'm supposed to do but I don't know how to start?
But as humans it is not only about what we are doing, we are human BEINGS. At Regeneration 2024, we want explore the rhythm between DOING and BEING. As Dr. Barry Jones shares in his book Dwell:
"There is a rhythm of life that pulses through the biblical vision of what it means to be human. A kind of breathing in and breathing out. An inhale and an exhale. The breathing in is our participation in the divine life. The breathing out, our participation in the divine mission. The breathing in is intimately connected to our experience of God's personal presence. It is life lived with God. The breathing out involves our participation in God's just reign. It is life lived for the sake of the world. The breathing in we often call "spirituality." And the breathing out we call "mission."
We must reconnect spirituality and mission, showing how the spiritual life, when lived properly, follows this progression: we become like Christ by dwelling in Him, loving him with all our heart and soul and mind and strength. And then because we are His temple and He dwells in us, we DO the work of loving our neighbors as ourselves
Can my spouse and/or child come?
YES! Childcare will be provided for families with children up to 3 years of age. Spouses of registered young adult delegates who are over the age of 30 are welcome to register and attend Regeneration 2024. Please contact our office via email at [email protected].
COVID SAFETY
Regeneration is following the CDC rules for the state of Wisconsin. While we are not requiring a COVID test prior to attending, we encourage you to test before traveling for the weekend. And we don't want anyone to miss, but if you are feeling ill please stay home. Masks are optional for the weekend.
Where is Regeneration?
Wonderland Camp & Conference Center
9241 Camp Lake Road
Camp Lake, WI53109
The Band Jaren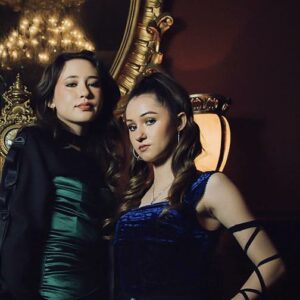 Fronted by lead singer/songwriter, guitarist Jaren LaGore with her violin playing sister Jade LaGore, this sister duo creates a Pop/Rock sound. Backed by an all female band, The Band JAREN gives a new and fresh take on the genre using electric violin and 4 part harmonies. Individually, their accomplishments range from Carnegie Hall performances to winning multiple music awards. Combined with their passion to bring wandering hearts to the Lord and unique and creative arrangements is a focus on music for their own generation. "The Lord has called us to enter this journey not individually, but together. We can't wait to see the unfolding of The Band JAREN and all that God will do with this music."
Captains Darell & Willow Houseton, DYS in Eastern Territory
Captains Jen & Josh Polanco, Northern Division

 Instagram
 Facebook
 Twitter
See what we've got planned